NEoFaciale® EXERCISING PRODUCTS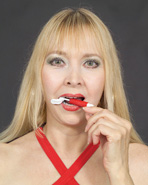 Step 1
Insert each End Cup into the
corners of your mouth.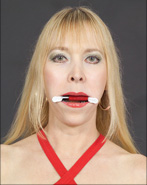 Step 2
Press your upper and
lower lips smoothly over
your teeth, forming an
oval or egg shape.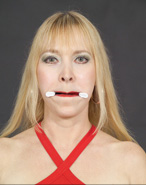 Step 3
Compress your lips together. Repeat.

"The Ultimate" Model - You are provided with 16 ounces of spring tension-strength weight in this patented product. Everything you need is right at your fingertips to just insert into your mouth and begin exercising. Simple and Easy!
"The Exceptional" Model - We provide you with 2 different rubber band strengths from which to choose! When starting to use, it is important to begin exercising with one 8 oz. strength rubber band. You can then increase to a 16 oz. rubber band as you progress in exercising. We also provide you with 2 years' worth of free rubber bands (Orthodontic grade elastics for your safety).
Exercise causes the muscles of the face and neck to NATURALLY "plump" and become (and continue to be) youthful! It defies the force of gravity, therefore, eliminating that "sunken-in/hollow cheek, long-face" appearance of seemingly haggard, saggy/baggy, tiredness and age. The movement of exercising causes the blood to flow to the muscles, veins, and capillaries and thus, a fresh, younger looking, healthy appearance results besides strengthened and toned muscles! The benefits of exercising bring oxygen to the muscle tissues and result in the skin taking on a healthy glow that replaces the drab and sallow look of the non-exercised face.
[Read "ANTI-AGING RESULTS OF USE."]
In our highly competitive world, IT IS IMPERATIVE FOR BOTH MEN AND WOMEN TO LOOK THEIR BEST.
No other facial-exercise products are as intelligently and technologically advanced as NEoFacial® Facial Exercisers. Purchasing them is DEFINITELY one of the most important investments you can make for yourself for today and for your future tomorrows!